There's no denying the fact that digital marketing has become a quintessential part of every business's marketing strategies. Every company is in fact, trying to figure out ways to score big marketing wins. So, why be left behind? Hire a reputable digital marketing company. It will definitely help you in building forward-thinking digital strategies. You surely want to beat the competitors and take a firm hold of the market. Do not hesitate to search for suitable.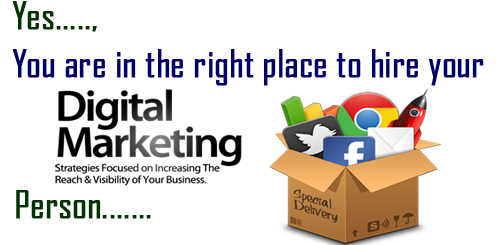 SEO services Mumbai. The city has recently become the address of some of the most reputable SEO companies in the country. But, before you hire a company for digital marketing services, here's why you really need one:
Get interactive content for better response
Content marketing as you know it may be old. The digital marketing experts know how web 2.0 has changed the ways content is consumed by the target audience.  Concentrating solely on article writing is not going to work. Today, the targeted customers have the privilege of watching videos, checking slideshows, infographics, podcasts, and solving puzzles. So, let digital marketing experts make information easily digestible by making it interactive and interesting.
Forget free or low budget content creation and distribution
Remember, that almost anyone can write an article or create a video and upload it on the Internet. So, according to Digitally Viral, it has become important for the companies to increase their budget now! Every company needs to keep a separate budget for digital marketing and should hire experts. Every big brand that is in the competition is already spending substantial marketing budget on content creation and implementation of the marketing plan. So, hire an Internet marketing company to create custom content. Paid distribution of interactive content is highly recommended.
Social media marketing game changed!
The social media sites are littered with interesting videos, content, and memes. This has made it challenging for the digital marketers to make people aware and engage with any particular brand. An online marketing company will find out ways to attract the attention of potential customers towards your business. There are different strategies that experts try – paying influencers for spreading words about your business and reaching out to new customers via social media profiles of already existing customers. You may not be so manipulative and calculative. Thus, the experts reassure the importance of hiring the services of digital marketing professionals.
Potential customers are everywhere
It's definitely important to optimize your business website for popular search engines. But there's more! You can attract customers from social networking sites, do email marketing to reach them directly, as well as advertise on the digital media. Expert digital marketers can choose what's best for your business.
Communicating directly with the clients is a must
There are many channels of communication available today. Thus, it has become easier for the marketers to communicate with the brands directly. Digitally Viral confirms that meaningful interactions will bring value to the brand and help it grow. It will help a company to understand the exact demands of the people as well as help the customers to identify with the brand and the company. Invest in powerful interaction channels between brands and target customers.
Now that you know the reasons for hiring experts to do digital marketing, don't wait too long as your competitors are already on the prowl for taking a maximum share of the market!